Find Tourist Attractions in Boston
Boston has many tourist attractions that are great for out-of-town visitors to see and get the full Boston experience! From famous historical sites and landmarks on the Freedom Trail, to popular outdoor green spaces, Boston has some places to visit – so whether you're in Massachusetts for a day or a week, here are some spots to check out. We hope you enjoy these Boston tourist attractions while you stay in the city.
Best Outdoor Tourist Attractions to Visit in Boston
Are you looking for the best spots to visit in Boston? Visit some parks! Here are our choices for the best parks and green spaces that are tourist attractions in Boston (updated for 2022):
Bunker Hill Monument is a 221-foot monument in Charlestown erected to commemorate the Battle of Bunker Hill. A must visit tourist attraction in Boston.
Back Bay Fens has walking trails, peaceful ponds, community gardens and a lovely botanical garden.
One of the oldest navy yards and now the site of the U.S.S. Constitution, waterfront views and more – a tourist spot worth visiting.
Copley Square is a well-frequented public square and green space in Boston's Back Bay close to many bars and restaurants.
A large park that borders the Charles River, the Esplanade is popular site for tourism in Boston, with walking and biking paths and amazing views.
The oldest park in America is a must-visit for tourists overlooked by the State House, with plenty of picnic areas, food vendors.
A must-see tourist attraction, Boston Public Garden adjacent to Boston Common with beautiful scenery, and sculptures.
The Rose Kennedy Greenway is popular destination for tourists in Boston, which has food trucks, farmers markets and a beer garden.
A popular tourist attraction in Boston that has picnic tables and a seasonal seafood takeout restaurant.
A park located downtown near the North End overlooks the Harbor, and has it's signature 260 foot trellis.
Located next to the Charles River in Allston, Herter Park has a playground and wading pool for kids, beer garden and amphitheater for live events.
Boston's largest parks has plenty of areas to explore included wooded paths, scenic views and even a Zoo.
A large sports complex in North Cambridge with an extensive picnic and BBQ area, walking trails, and dog park.
One of Boston's most iconic views can seen here. There's also a picnic area and interesting landscaping.
Piers Park offers views of the Boston Harbor and the skyline view of Downtown Boston. It also has a picnic area and play area for kids.
A scenic park in East Cambridge that has views of the Zakim Bridge, Charles River and Downtown Boston. This park also includes a large play area and splash pad.
A large man-made pond in Jamaica Plain with a path for walking and running that circles the pond.
A large arboretum located in Jamaica Plain and Roslindale, that includes hiking trails, wildlife, and wonderful scenery.
A park for all seasons includes an area for youth sports, playground, an ice skating rink and one of Boston's best sledding spots, with a hill overlooking the city.
A beautiful park and tourist attraction that is the burial site of many historical figures.
A new tourist attraction in Boston, and a site for public art. This spot is located under I-93 in the South End near Downtown, which includes over 20 large murals.
A wildlife sanctuary and dog-friendly park and reservation in North Cambridge with a path for walking and running. This is a spot for people who love nature and the outdoors!
A beautiful and peaceful cemetery and sculpture garden with amazing views of the Boston skyline. Also the site of wildlife.
Cambridge Common is a large historic park located in Harvard Square with many monuments.
Looking for even more tourist attractions in Boston? View the entire list of tourism destinations, sites and landmarks in the Boston area, including Brookline, Cambridge and Somerville.
Looking for a Place to Stay?
Here are our choices for best Inns, Hotels, and B&Bs
While there are many great places to stay when you're visiting Boston, we recommend three amazing places to consider for your next trip.  Each hotel is located in a different neighborhood in Boston and while bringing a truly unique experience. 
The Upton offers furnished apartments in a classic Boston brownstone in the 
vibrant 
South End neighborhood of Boston. Rooms combine the historic charm with modern living, featuring bright, sleek, and carefully furnished apartments, expansive windows, wood floors, and fully equipped kitchens. The building is located within walking distance of the South End's best restaurants, coffee shops, and local artisan businesses.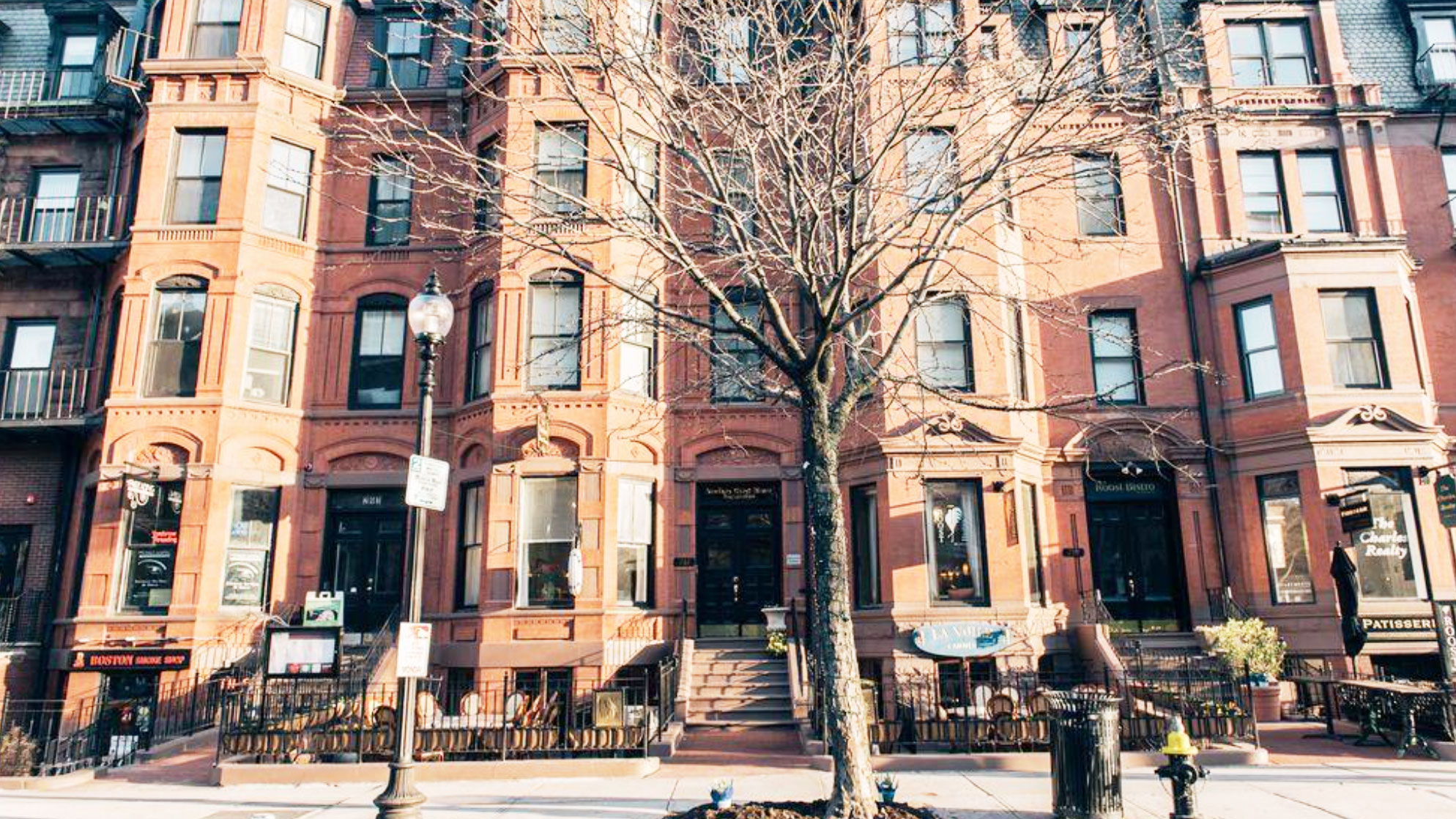 Newbury Guest House is located in the heart of the Back Bay neighborhood, right on the iconic Newbury Street, near many shops and restaurants. The 1882 Victorian brownstone blends with 21st century comfort. There are 35 well-appointed guest rooms with premium bedding, toiletries and high speed Wi-Fi.
The Green Turtle offers a unique, luxury B&B experience for its guests. You can choose from staying in a 45-foot yacht, or a houseboat – both with amenities you would find in any B&B. Set in historic Charlestown Navy Yard, the B&B offers an expansive view of the Boston Harbor and is close to many historical sites in the area.
Located on a quiet street within walking distance to the restaurants and shops in Harvard Square, the guesthouse at Irving House offers a variety of cozy rooms for all kinds of travelers. Your stay includes complimentary breakfast and off-street parking. The Irving House is family-owned, and women operated. Amenities include high speed internet access, are HCP accessible and smoke free rooms. Families welcome.