Find Public Art in Boston
Boston is home to many public art installations. If you're looking for public art in Boston, Brookline or Cambridge, you've come to the right place. Whether you're searching for outdoor murals, street art, or sculptures, there are plenty of great outdoor art installations in Boston to explore. Take a look at the parks and green spaces listed below to find a wide variety of public art, including sculptures, murals, and installations.
Best Public Art in Boston
Boston has many outdoor art installations to see, including sculptures, murals, and other forms of art. Here are the best outdoor art installations in Boston, Brookline, Cambridge, and Somerville to view public art:
Sculpture Gardens in Boston
Boston has a few sculpture gardens to see. At these parks, you can view a selection wonderful sculptures. 
In addition to sculpture gardens, here are some parks that have sculptures, including historical sculptures.
Looking for Murals in Boston? We have a few parks for murals and other art installations.
Here are some similar park amenities related to public art in Boston: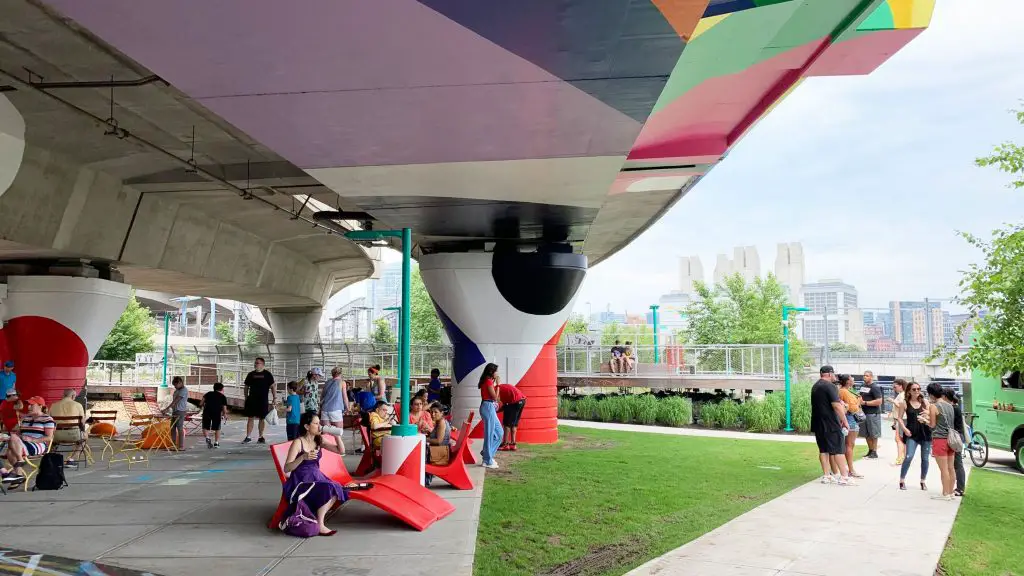 Where Boston's Best Mural Artists Display Their Best Work
In 2017, the I-93 underpass between Boston's South End and South Boston transformed into a cultural attraction. Curated by Street Theory in partnership with National Development, The Underground Mural project is Boston's best street artists added vibrant designs to revitalize this space to one of the city's best-kept secrets that you'll have to see for yourself. The Boston public art installation received local and national attention from the local press, travel guides, street art enthusiasts, and event producers.
The mural program at Underground began soon after the park opened in 2017. The first installation of nine murals set the tone for the park as a creative, energetic, cultural attraction and a place that welcomes everyone. 
In 2019, the second installation of ten murals in June of 2019 expanded the program with both local and international artists and engages the highway infrastructure in even more unique and surprising ways.  
In 2020 the murals titled "Don't Let Me Be Misunderstood" and "No Weapon Formed Against Thee Shall Prosper" were added to the park, for a grand total of 21 murals, further adding to what Boston Magazine named as the Best Outdoor Museum. 
Underground At Ink Block has had over 20 artists contribute to the mural project over the past few years. We caught up with Silvia López Chavez, and Dana Woulfe, 2 of the artists that contributed, to ask them about the inspiration for their pieces.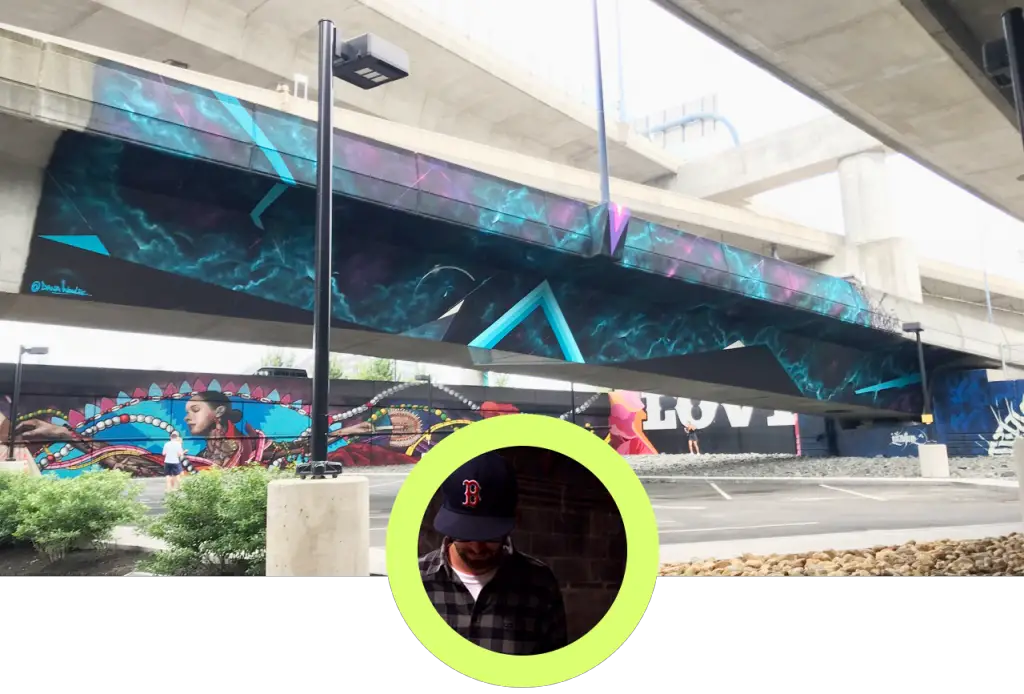 "My piece at Ink Block was site specific, and I designed it with the space in mind. I create abstract paintings that do not necessarily have a 'story' or overt message or meaning, but rather focus on the energy or vibe it gives off. For my mural at Underground At Ink Block, I wanted to create something that took away the rigid structures of the I-93 underpass and created a space that you could visually fall into, like a portal or something". 
"While working on the piece, I was working upside down due to the nature of the surface, so the kinda ethereal vibe created by the colors plus the unique dynamic of the physical space led me to call it 'The Up Side Down' – a little nod to Stranger Things and painting a mural almost upside down".
"Underground is a unique space in Boston which historically has not been super accepting of 'street art'. It's been awesome to have organizations like Street Theory and Ink Block organize and celebrate local artists by giving them this space!"
Follow Dana on Instagram:
Image credit: Artist portrait: Dominic Chavez Mural photo: @rediovision
"My piece is titled 'Up and Under' Bold, bright geometric shapes sprawl across the space underneath the highway where pillars connect above. Colors blend at the focal point of bougainvillea flowers, which crawl up two concrete pillars. The majestic columns and the temple-like feel at this location served as inspiration for the mural. Like the urban setting of this semi-covered park, the tropical vine-like shrubs are fragile yet very strong, providing a sense of an unexpected urban wilderness". 
Follow Silvia on Instagram:
Learn more about the newest display of public art in Boston! Check out Underground At Ink Block today.