Boston has so many great green spaces that people may not know about. Of course, if you haven't visited these iconic parks yet, we hope you do:
The problem is, these well-known parks can get crowded. However… if you like exploring, here are a few more "hidden gem" parks in the Boston area we recommend checking out.
Ramler Park 
Fenway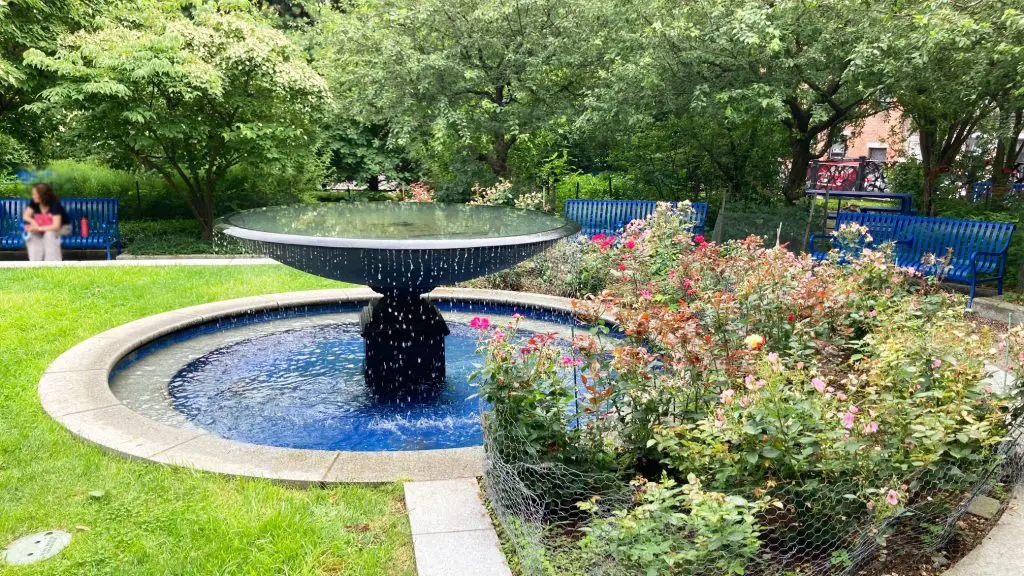 Ramler Park is a small, quaint pocket park that is a great escape from the busy Fenway neighborhood. that is a converted parking lot. Though small, the green space packs in greenery, picnic tables, a bird bath, and a trumpet vine trellis. Come here to read (it has a little library), relax, or have a quiet picnic.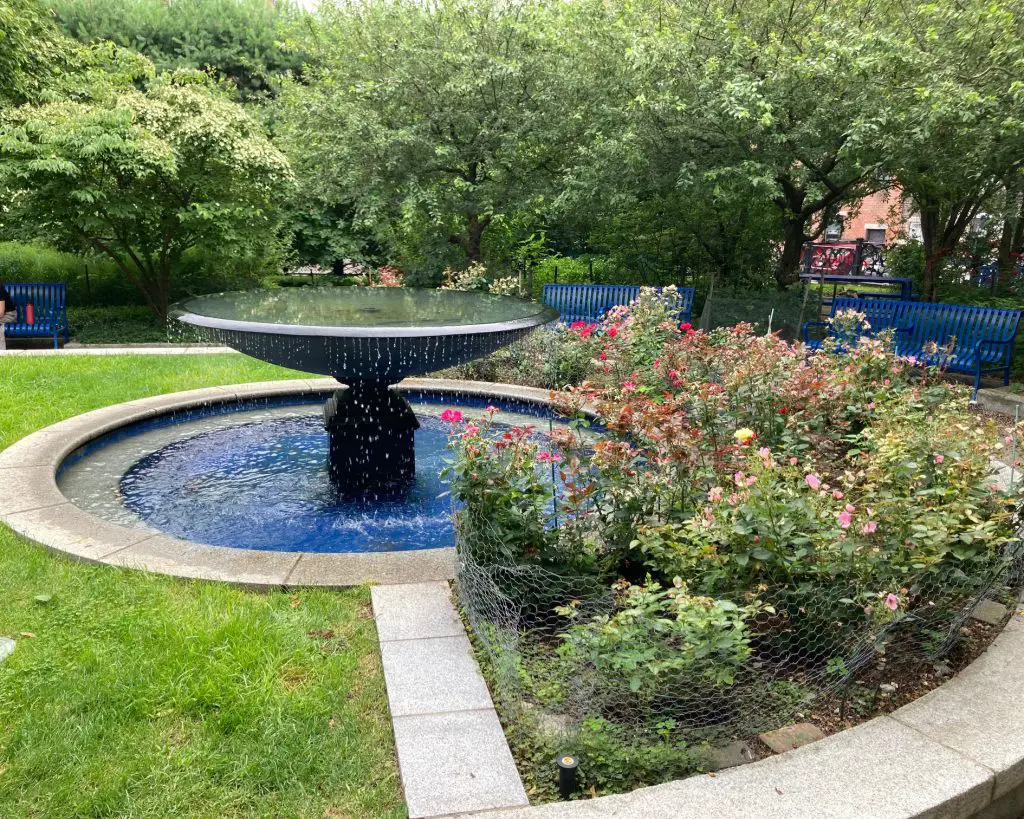 Fisher Hill Reservoir 
Brookline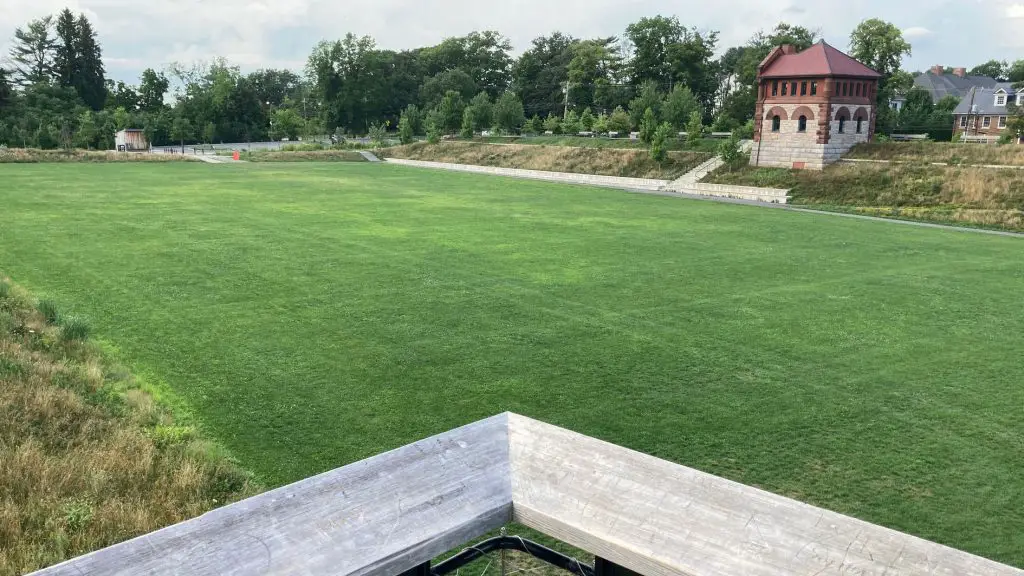 Fisher Hill Reservoir is a large reservoir-turned-park nestled on top of Fisher Hill in Brookline. This pleasant, uniquely beautiful park, with a wood-sculpted playground, boardwalk, and walking paths. Come here for a scenic walk or a picnic. The park is extremely family-friendly, and includes public bathrooms and an off-street parking lot.
Kendall Square Rooftop Garden
Cambridge
Who knew there was a rooftop garden in the Boston area? Kendall Square Rooftop Garden is a free rooftop park and garden that is open to the public. Surrounded by greenery, flowers, and trees, there are plenty of benches, grass, wifi, and seats to enjoy the vibes. The rooftop park even has a pickleball court that doubles as a volleyball court. There are little USB plugs near the solar benches if you need a quick charge. You can even admire the public art.
Langone Park
North End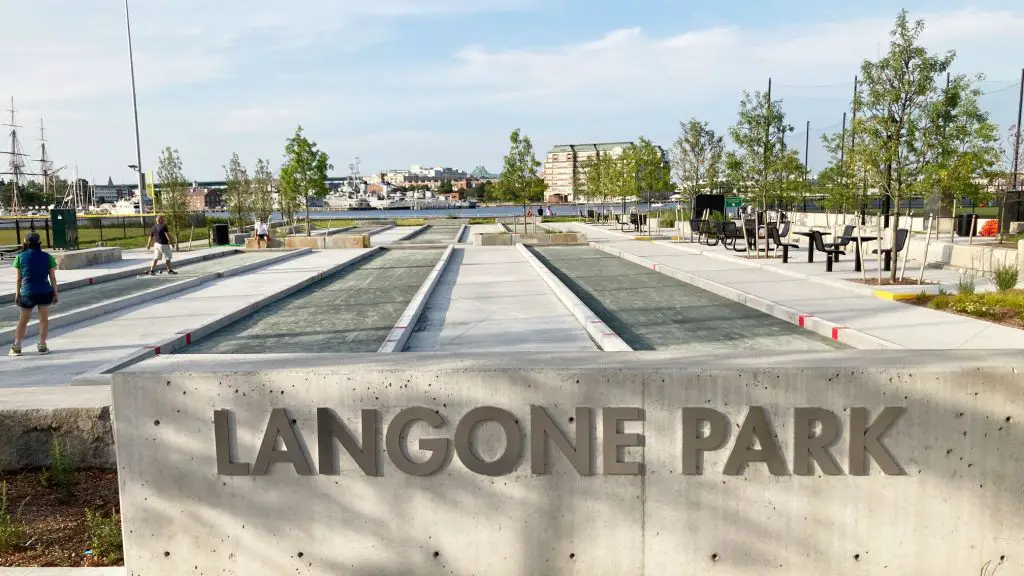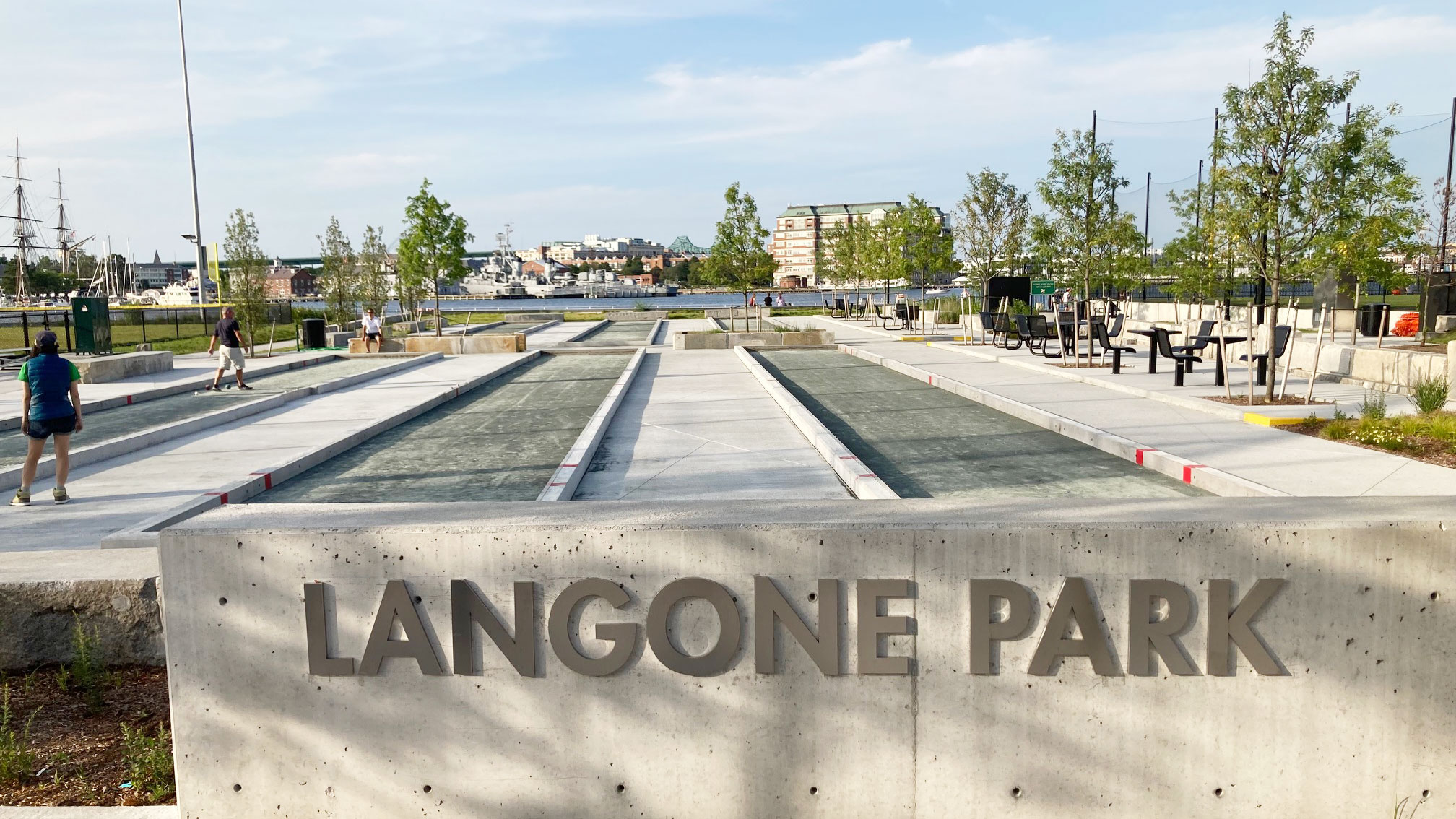 Langone Park is tucked away in the North End neighborhood, this recently renovated park has awesome views. The boardwalk offers scenic views of Charlestown, East Boston the Boston Harbor, the historic U.S.S. Constitution, and the Zakim Bridge in the distance. This is the best place to play, bocce, with six new bocce courts to try your skills. There is also a combination turf field, basketball court, playground and fitness equipment.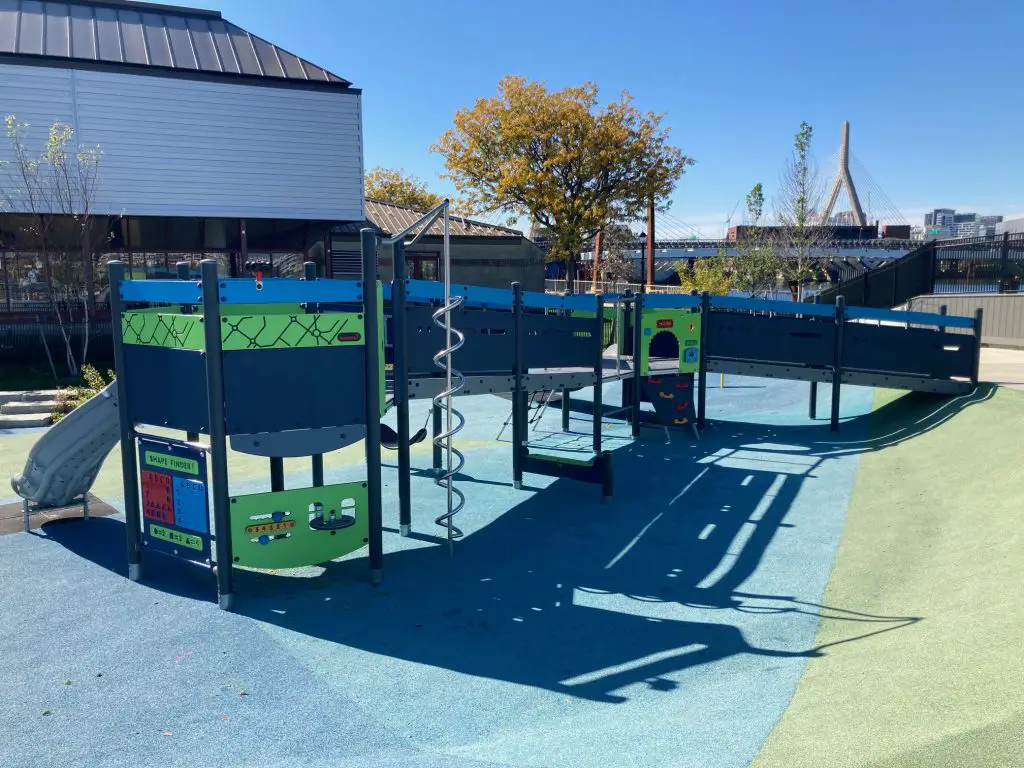 Leventhal Park 
Downtown
A park in downtown Boston that can sometimes be overlooked, Leventhal Park is the perfect place to relax or have a picnic. There is a long walk-through garden trellis and sculptural fountain, as well as a picnic area. And for your convenience, a parking garage is directly underneath the park.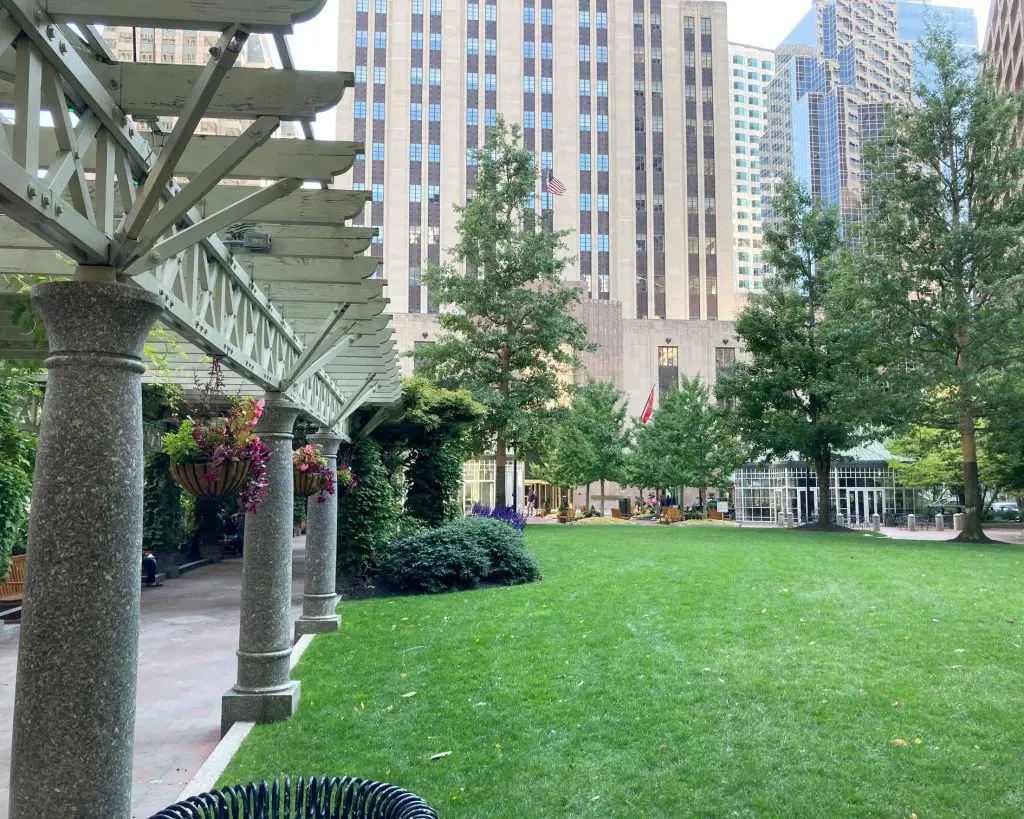 Halls Pond Sanctuary
Brookline
In Brookline near Fenway, Halls Pond Sanctuary is located across the field at Amory Park. Walk on the short trail and boardwalk that circles the wetland and pond area to see a variety of birds and plant life. There is also a beautiful formal garden area, and a short trail with wetland overlooks that circles the pond. Visit this hidden wildlife escape in the city!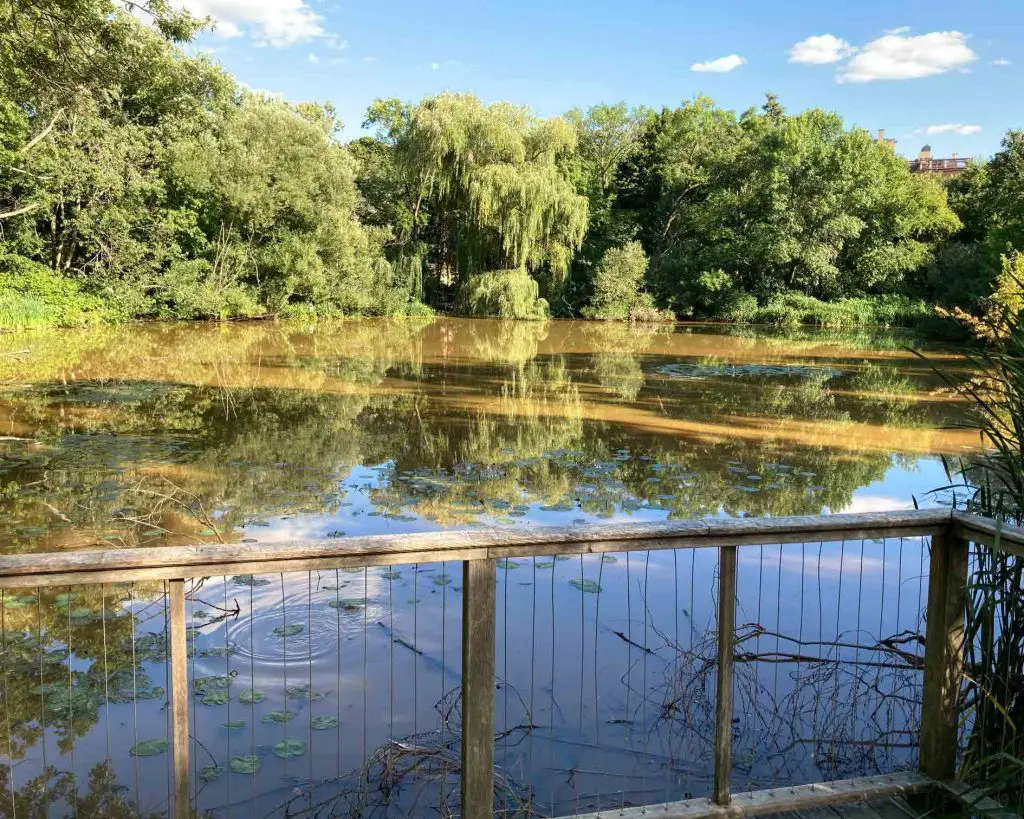 South Boston Maritime Park
Seaport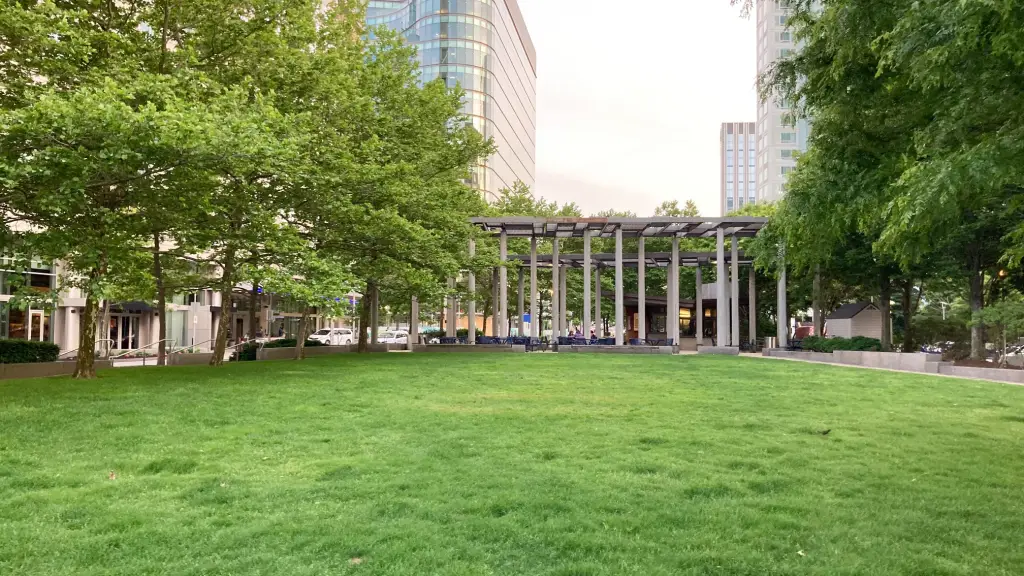 Next time you're in the bustling Seaport neighborhood, check out South Boston Maritime Park. The park has a barbecue restaurant, Larry J's BBQ Cafe is open seasonally on site, with plenty of tables and benches. It is also known for live music performances. At the neighboring Eastport Park, there are wonderful contemporary sculptures. Note that dogs are not permitted at this park.
Underground at Ink Block 
South End
It may not be much of a hidden gem in Boston since opening in 2017, but Underground at Ink Block is a park that has become a cultural attraction. Rightfully named Underground at Ink Block, the open space resides under the I-93 overpass located between the South End and South Boston. The park has 20+ murals by local street artists. In addition, there is a fenced dog park, curated retail, fitness, food and beverage experiences as well as a bike storage facility, and plenty of parking.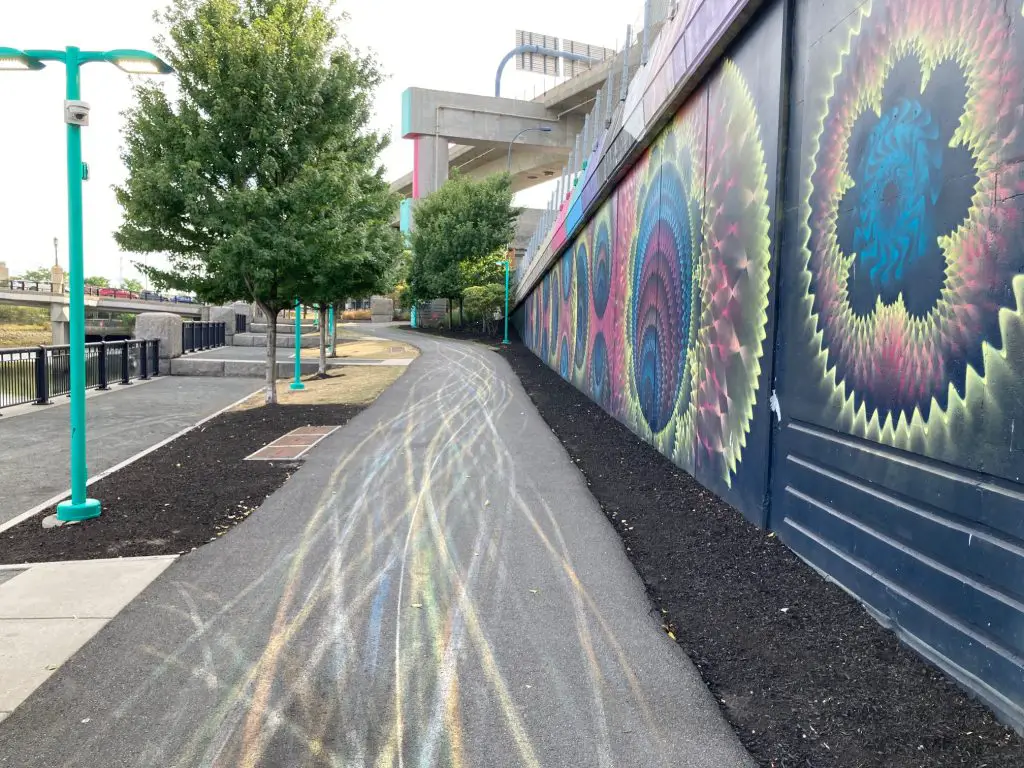 Savin Hill Park
Dorchester
Savin Hill Park offers an uphill hike to the top to find fantastic views of Dorchester Bay. This hidden gem park offers nature in the middle of the Dorchester neighborhood, in the middle of the city. It offers a short hike with big rocks and a great view when you get to the top. There are usually many off-leash dogs, which although against the rules makes the park very friendly and tolerant.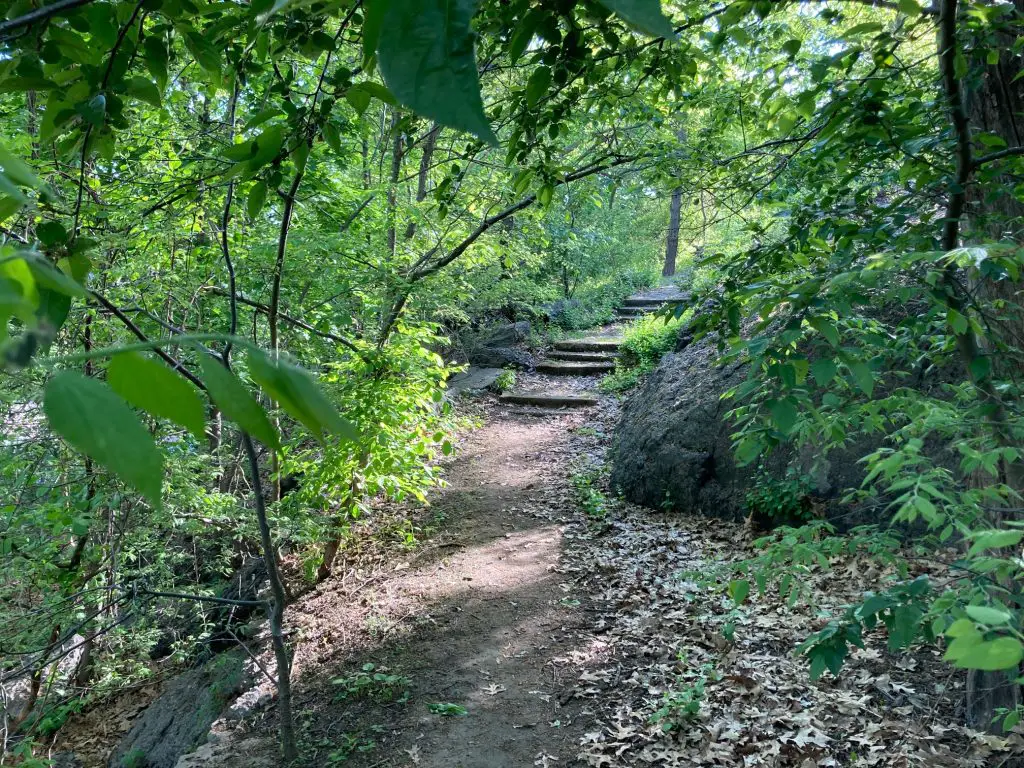 North Point Park
Cambridge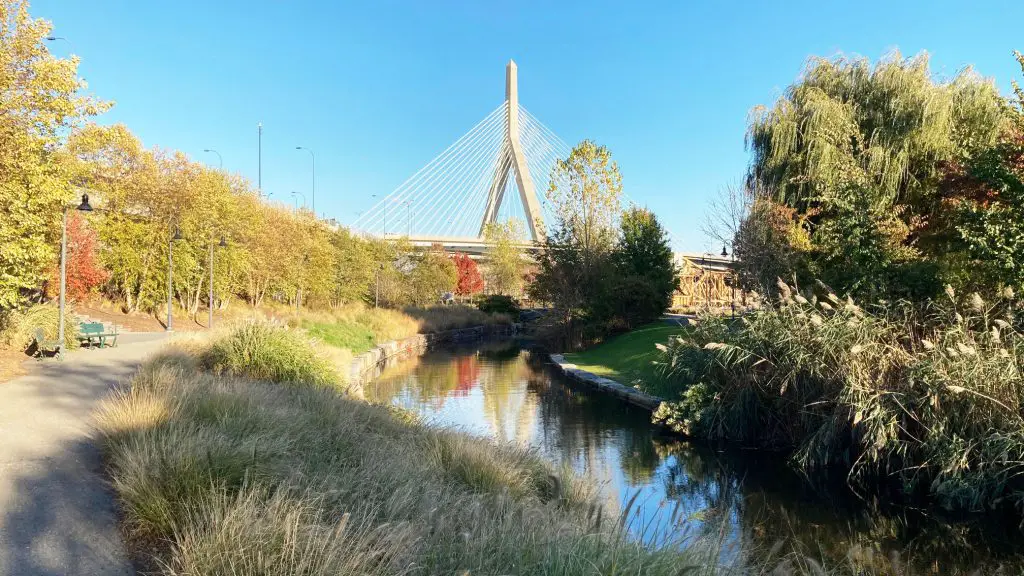 Maybe a bit more well-known, North Point Park is located in East Cambridge, close to North End and Charlestown, with wonderful views of the Charles River. An amazing park with gorgeous views, beautiful greenery, a playground with water features and lovely walking trails. A hidden gem near Boston this park has great amenities, including a large playground with a variety of play structures and equipment. There is also a water feature. Perhaps the best part of the park is the view of the Zakim Bridge.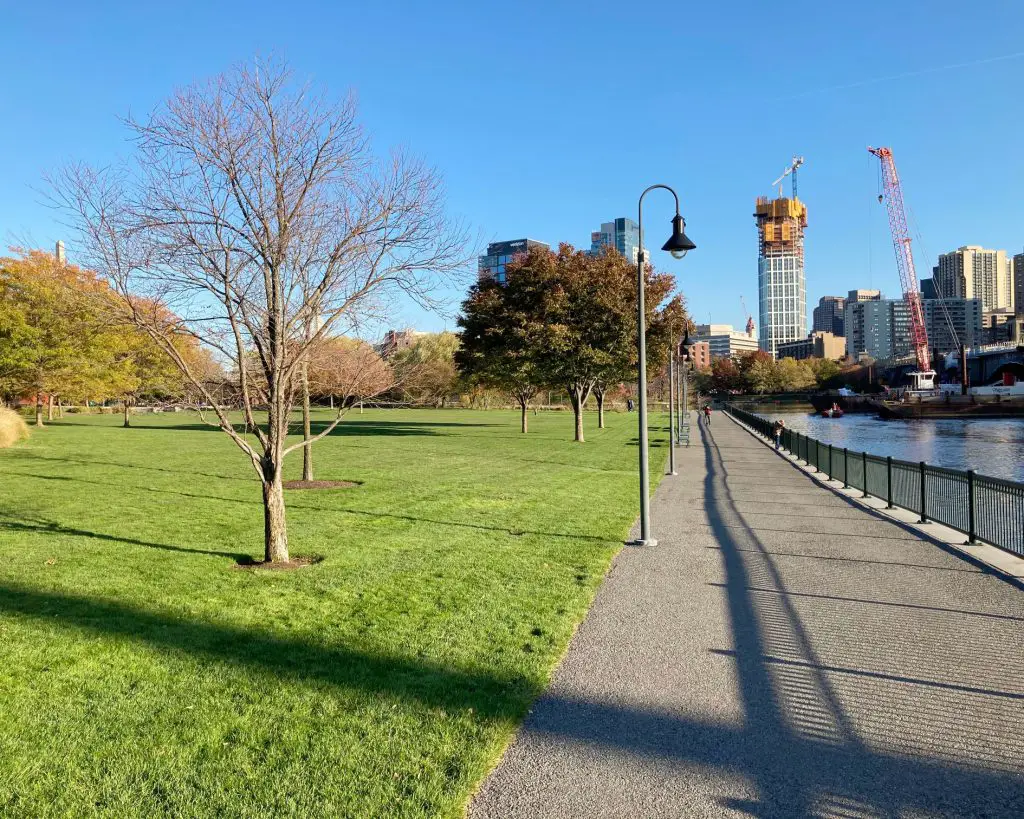 Corey Hill Park
Brookline
Located in Brookline and near Allston-Brighton, Corey Hill Park is the perfect place to relax and take in the views of the city. The park has hammocks and lounge chairs open for public use, overlooking distant city skyline views. The park also includes a separate playground area for kids with a splash, and workout station located across the street. Bonus points for visiting during a nice summer sunset.
Dorchester Heights
South Boston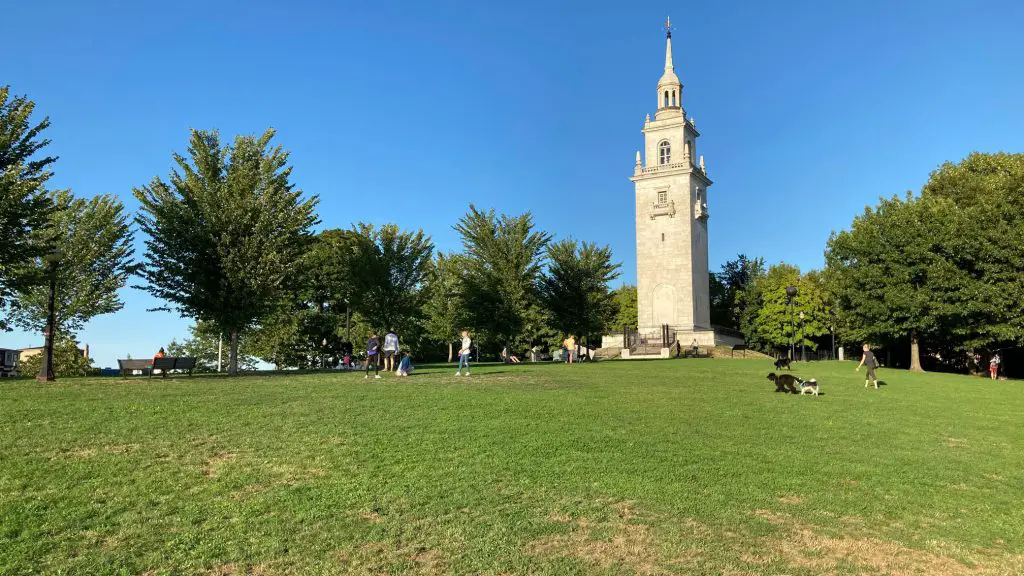 Dorchester Heights is a dog-friendly, well-visited neighborhood park in South Boston. It is the highest point in the Southie neighborhood, with spectacular views of Boston Harbor and downtown. The Dorchester Heights Monument is located in the center of the park.
Mellone Park 
Allston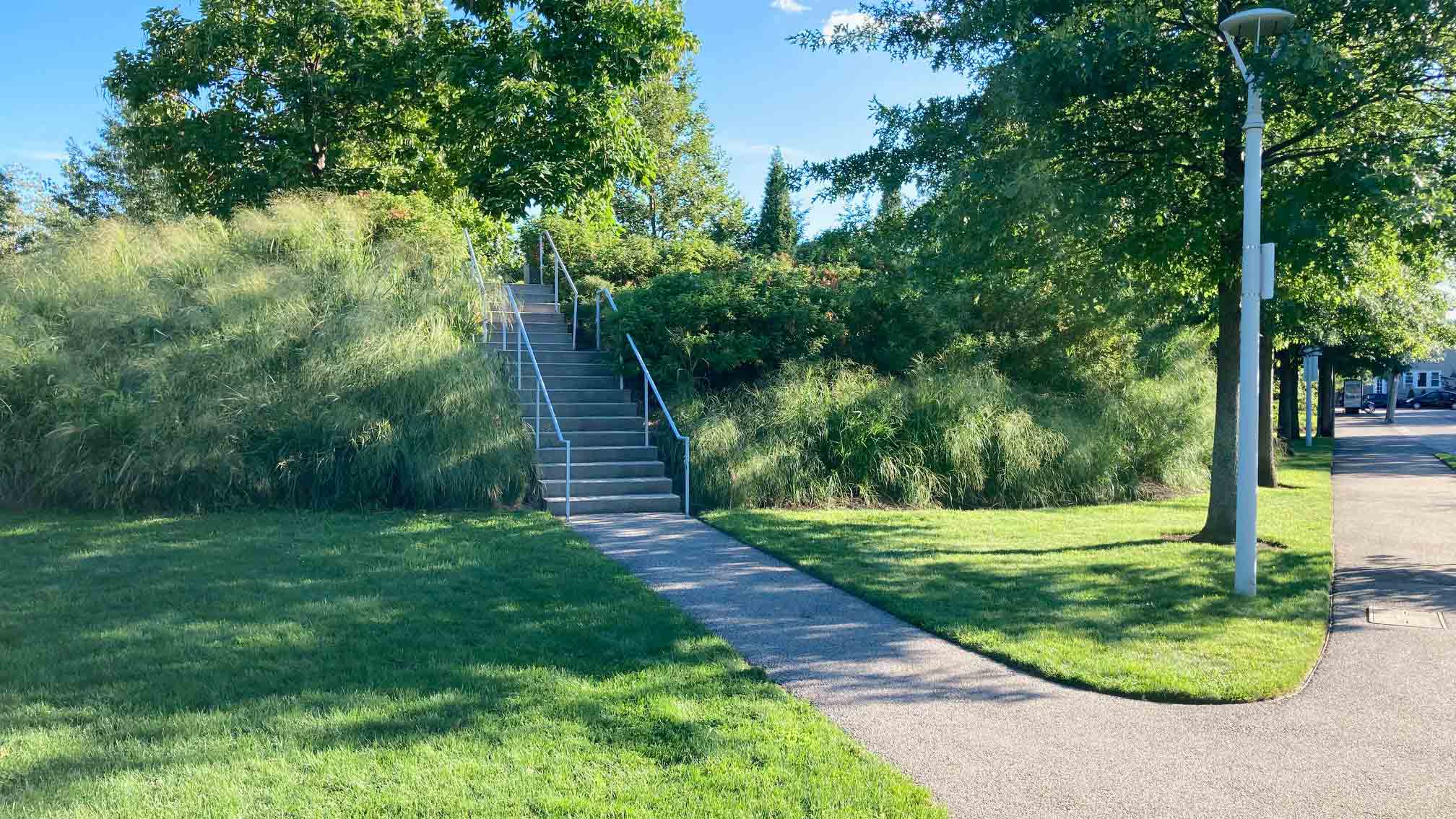 A recently renovated park, Mellone Park is a hidden gem in Boston that few people outside of Allston know about. Nestled behind the Allston Library, the park is easily missed – but once you're there, you may never want to leave. It is a peaceful, well landscaped green space in the Allston neighborhood. If you want a pleasant and peaceful outdoor space to relax, Mellone Park offers that.
Riverway
Fenway
Tucked away in the Fenway neighborhood and bordering Brookline, Riverway is a unique linear park for a scenic stroll along the muddy river. The paved path is a scenic cut-through that is great for both runners and bikers. In the summer months, this Boston hidden gem has a seasonal public art exhibit that visitors can see as they walk through the shaded park.
Looking For More Parks?
While these are just the city green spaces we recommend visiting, there are so many more parks in the Boston area to explore, including neighboring Brookline, Cambridge, and Somerville.