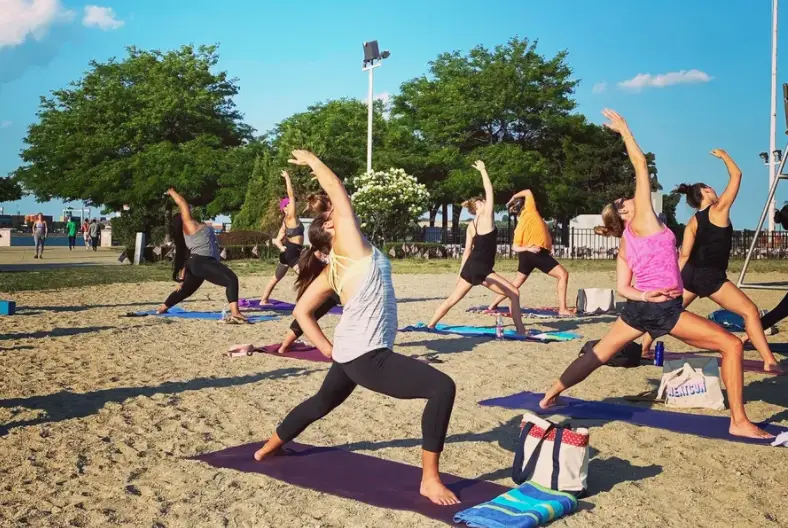 Wednesday Evening Beach Yoga @ Pleasure Bay Beach
Heading into our sixth season of this epic outdoor offering, you can find us at Pleasure Bay Beach in South Boston. 
We meet right by the gazeebo / American flag pole / WWII memorial — using GPS, type in "Pleasure Bay Parking" and it'll bring you right to us! 
I arrive 20 minutes before class.  Look for me, my big smile &  my teal crate, chalkboard sign, bucket of sandy yoga mats!
Parking is available first-come, first serve in the Pleasure Bay Parking Lot!
Everything You Need to Know
First time joining us for beach yoga? No need to "sign up",  but please e-sign this liability waiver ahead of time.
6th season = 2 classes weekly . . .
Saturday's @ 10AM – Weekend Warrior Flow
Wednesday's @ 6PM – Feel Good Flow
Always just $15. Cash or Venmo @daisyfaceflow
Don't want to get your yoga mat sandy? Rent one of mine for $3
Each class is geared towards newer & well-practiced yogi's alike. I welcome ALL students, kids, grandparents to join & to "take what you want & leave the rest" while we flow. My goal is to leave you feeling good from the inside, out!
This 2023 season continues to request that as an attendee to please respect the space of fellow students & set up your mat with enough space on all four sides. Take any trash off the beach that you bring on with you. And if you're not feeling 100%,  please stay home and rest.
Any questions this page hasn't answered for you? Learn more here: https://daisyfaceflow.com/beach-yoga-1 
Please don't hesitate to e-mail me at Morgan@daisyfaceflow.com.