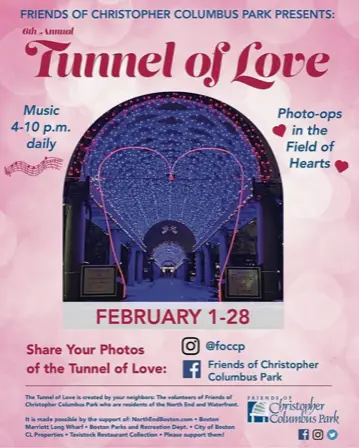 Tunnel of Love @ Christopher Columbus Park
Friends of Christopher Columbus Park presents: Tunnel of Love
Come see the tunnel of love at Christopher Columbus Park, and get photo-ops in the field of hearts! Music 4-10 pm daily for the entire month of February.
Deals and Discounts
Have dinner at the Marriott Waterline restaurant. Receive a 15% discount on your dinner (food only), by saying "I love the Tunnel of Love!"
Stop at Joe's American Bar and Grill to get a discount on select appetizers. All you have to do is say the phrase, "I love the Tunnel of Love!" to your waiter and waitress.
Win 4 tickets to a summer harbor sunset cruise! Be sure to tag a photo at Tunnel of Love photos on Instagram @FOCCP
Please consider donating a couple of dollars to support the creators of the Tunnel of Love: the Friends of Christopher Columbus Park!
Thanks to Our Organization Sponsors