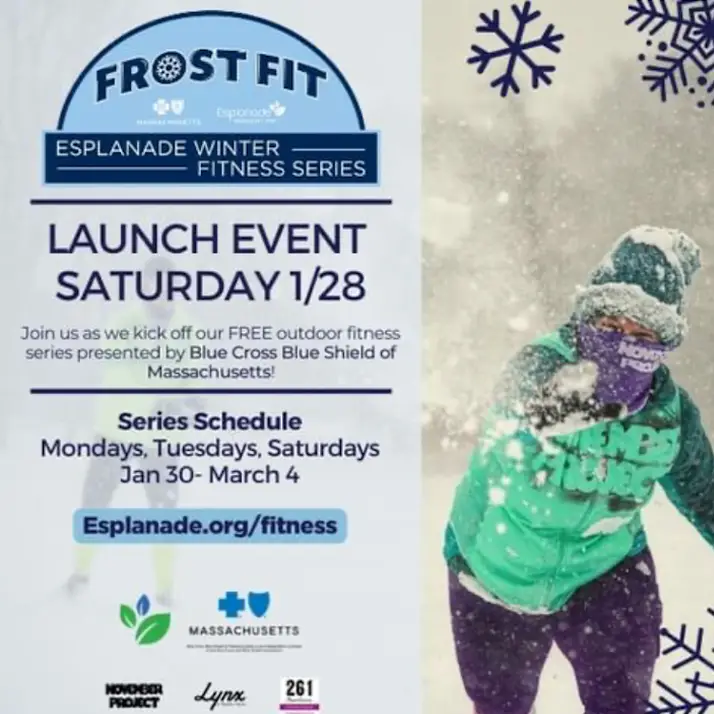 Frost Fit: November Project Workouts @ Esplanade (Fiedler Field)
The Frost Fit Winter Series Presented by Blue Cross Blue Shield of Massachusetts is back on the Charles River Esplanade this winter and bigger than ever with 4 workouts!
We cannot wait for our 2023 Frost Fit Winter Fitness Series! Enjoy a variety of FREE outdoor fitness classes hosted by the Esplanade Association and some of Boston's most popular fitness instructors, as part of our Frost Fit Series presented by Blue Cross Blue Shield of Massachusetts! Frost Fit is created in partnership with the Massachusetts Department of Conservation and Recreation (DCR).
Starting on January 30 until March 4, come workout, drink hot chocolate, and take home some swag!
Instructors from the November Project will lead you through running loops, body-weight exercises, and other fun, energetic activities designed to keep you moving (and therefore warm). Anyone who attends these workouts will receive select Frost Fit Winter Series swag and hot beverages. We strongly encourage you to bring your own reusable thermoses!
FROST FIT COVID-19 HEALTH AND SAFETY REQUIREMENTS AND GUIDELINES
Pre-registration is strongly preferred to ensure the safety of participants
Vaccinated participants can go mask-free! We strongly encourage non-vaccinated participants to wear a mask or face covering.
The Esplanade Association will have hand sanitizer available on-site.
Stay home if you feel sick and/or are part of a vulnerable population