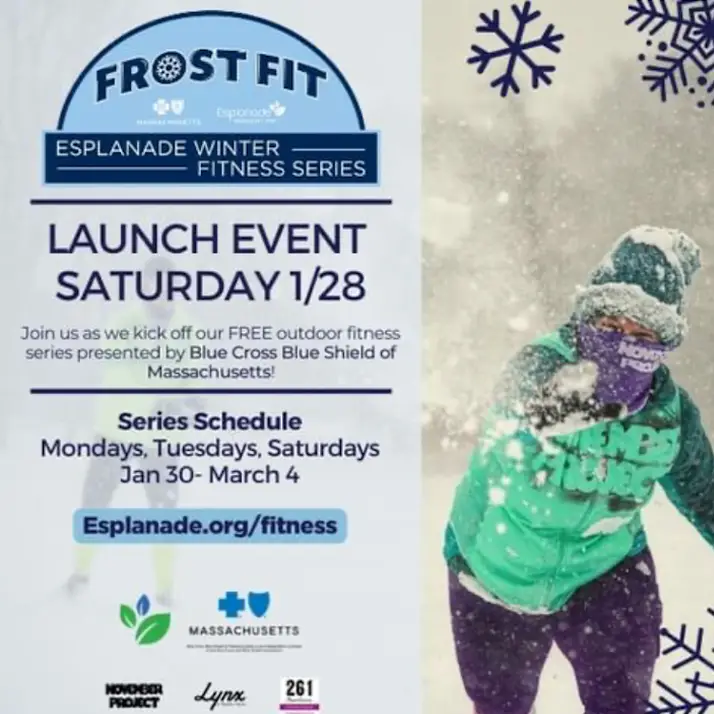 Frost Fit: Winter Walks: 261 Fearless Club New England @ Esplanade (Fiedler Field)
The Frost Fit Winter Series Presented by Blue Cross Blue Shield of Massachusetts is back on the Charles River Esplanade this winter and bigger than ever with 4 workouts!
We cannot wait for our 2023 Frost Fit Winter Fitness Series! Enjoy a variety of FREE outdoor fitness classes hosted by the Esplanade Association and some of Boston's most popular fitness instructors, as part of our Frost Fit Series presented by Blue Cross Blue Shield of Massachusetts! Frost Fit is created in partnership with the Massachusetts Department of Conservation and Recreation (DCR).
Tuesdays | 4pm-5pm
Hatch Memorial Shell Lawn
261 Fearless Club New England is proud to be partnering with the Esplanade Association as part of their Frost Fit winter series. They are a women's organization (18+) dedicated to empowering and uniting women through movement. Women supporting women to create a positive sense of self-confidence and fearlessness as we guide you through your fitness journey. Each walk, led by certified 261 coaches, will be 45 minutes in length that will include various speeds of walking to elevate the heart rate for optimal fitness.
FROST FIT COVID-19 HEALTH AND SAFETY REQUIREMENTS AND GUIDELINES
Pre-registration is strongly preferred to ensure the safety of participants
Vaccinated participants can go mask-free! We strongly encourage non-vaccinated participants to wear a mask or face covering.
The Esplanade Association will have hand sanitizer available on-site.
Stay home if you feel sick and/or are part of a vulnerable population