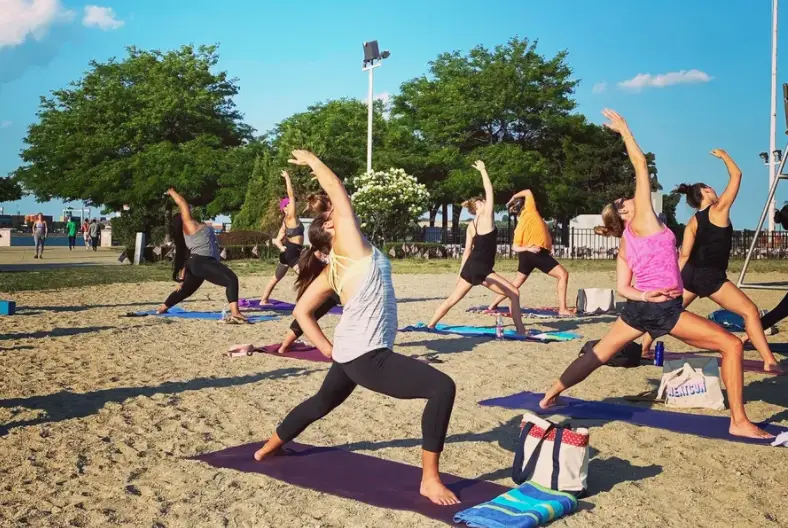 Friday Beach Yoga @ Pleasure Bay Beach
Morgan of daisyface flow, returns to Southie's Pleasure Bay Beach to offer 4 weekly yoga classes to the general public for just $10!
Her "Lunchbreak Flow" on Friday's from 12-1 PM is the perfect excuse to sneak away from your desk / out of the office & into the sunshine to move & breathe in mindful, conscious community. An invigorating all-levels, vinyasa style class that is meant for the newer yogi & those looking to expand their preexisting practice.
Bring a mat you don't mind getting sandy, or borrow one of Morgan's for FREE, & show up for class 5-10 minutes before the start to grab your perfect spot facing the ocean.
To find our special spot, type in "Pleasure Bay Parking Lot" on your GPS app (I use Waze) & you'll see us right next to the WWII Memorial/gazebo structure before the start of the Sugar Bowl.
Morgan is super passionate about offering the community a yoga class that lacks intimidation & isn't a major financial investment. Come see why she's had over 50 people on the sand here in her favorite spot in the city!
$10 Cash or Venmo @daisyfaceflow.
Everything You Need to Know
First time joining us for beach yoga? No need to "sign up",  but please e-sign this liability waiver ahead of time.
4th season = 4 classes weekly . . .

Friday's @ 12PM – FriYAY Flow
Saturday's @ 10AM – Weekend Warrior Flow
Sunday's @ 6PM – Sunday Serenity Flow
Wednesday's @ 6PM – Feel Good Flow

Always just $10. Cash or Venmo @daisyfaceflow.
Each class is geared towards newer & well-practiced yogi's alike. I welcome ALL students, kids, grandparents to join & to "take what you want & leave the rest" while we flow. My goal is to leave you feeling good from the inside, out!
This 2021 season looks a bit different than our past few due to COVID-19. Mats will be placed 6-feet apart, please wash hands before & after practice, respect the space of fellow students, & if you don't feel 100%,  please stay home and rest.