Danehy Park is one the most frequented parks in Cambridge, and with its newest playground is set to open in mid November, it's about to get better. While other playgrounds have elements of inclusionary design, this is the first universal playground – a huge milestone of the City of Cambridge. Urbnparks had the chance to visit the playground to see the construction and progress made.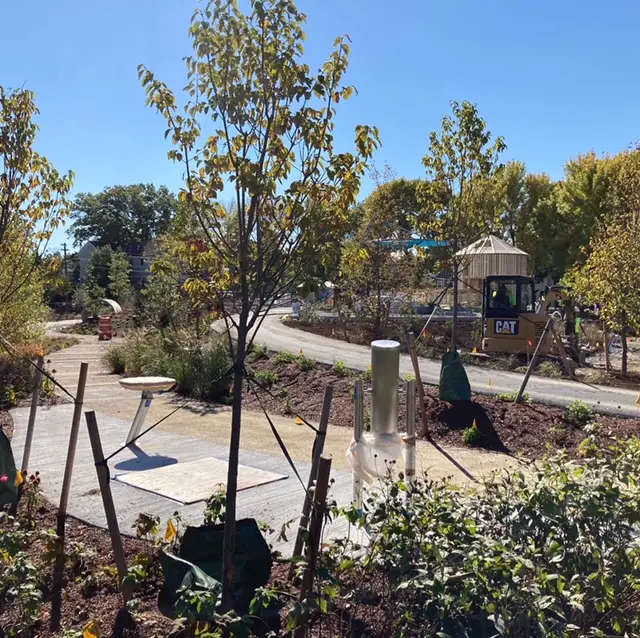 The Project & Inspiration
Cambridge City Manager Louis DePasquale was instrumental in bringing Danehy Park's newest playground to fruition. The project was inspired by the playground at Mayor Menino Park in Charlestown. When it opened in 2013, Menino Park was the City of Boston's first universally accessible playground. Like Menino Park, Danehy Park's newest playground area is designed for universal accessibility, using poured-in-place rubber surface, and accessible playground equipment. The park will not only be designed for mobile accessibility, but for potential sensory, cognitive, and emotional barriers as well.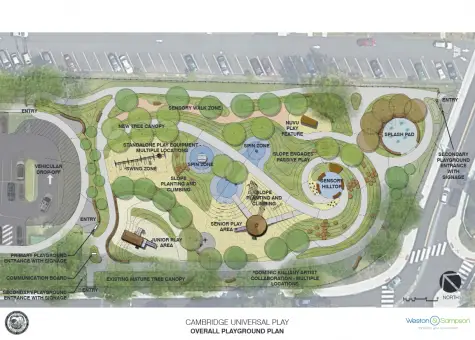 Danehy Park has an interesting and storied history. Located in North Cambridge, the park was once the site of a brickyard during the industrial revolution until its closing in 1952. Present day, the new playground will be built to include elements of the brickyard as an ode to the New England Brick Company that once existed where Danehy Park is today.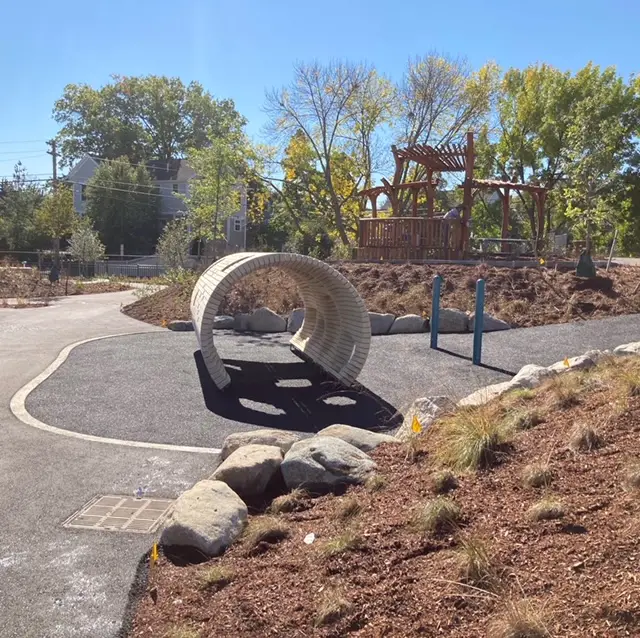 Incorporating public art was a big sticking point of the project. The playground will feature unique art installations from a few local artists. 
Cambridge artist Mitch Ryerson designed and created a shade structure, and benches, included in the Sensory Hilltop area of the playground. The shade structure constructed is with black locust, which is sustainable and highly rot-resistant lumber. The lumber for the structure was harvested from nearby Fresh Pond Reservation.
The playground contains completely customized structures and playground equipment designed to be accessible for children with disabilities:
Tot lot area
Water spray & splash pad
Accessible playground equipment
Poured-in-place rubber surface
Signage in braille
Sitting areas
Swings 
Senior play area with a climbing structure and slide
Outdoor xylophone / musical instruments
Off-street parking lot
Expected Timeline & Opening
With the project expected to be completed in Mid-November, the playground will open up for public use. Just be sure to check Twitter for updates. The grand opening is scheduled for Spring 2022.